Remembering Esther
This story celebrates Esther, and what I learned working with her jewelry.
After she died in the summer of 2020 the family sent her collection to me. While sorting through the boxes, possibilities for tiny artworks came together around her bracelets.

"Ok, Esther, what should I do?"
"Start!" is what I heard.
I began with the pearls then posted the results to Esther's relatives. The family responded enthusiastically remembering stories and suggesting names for the pieces.
— #1 Tiger's Eye and Pearls (3 ¼" dia. 5 ½" high)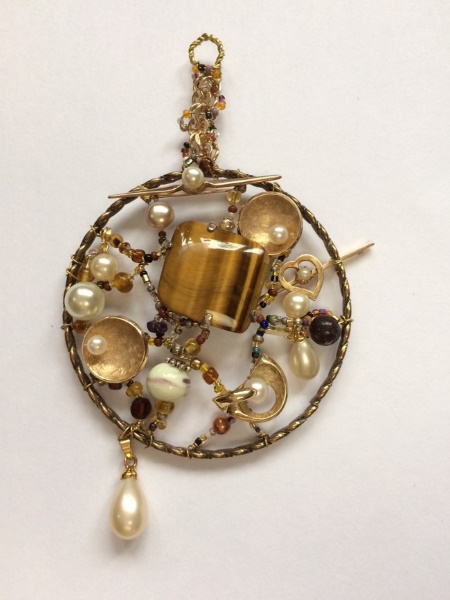 The second piece was easier. I imagined Esther in a little black dress, strong and elegant.
— #2 Mari Perla (3" dia., 4 ½" high)
Pieces #3 and #4 followed; a gilded geode and a piece that tracked a butterfly's trails. The family approved and I was hooked.
— #3 Laughing Geode (2 ½" dia., 5" high), #4 Butterfly's Trails (3" dia. 5 ½" high)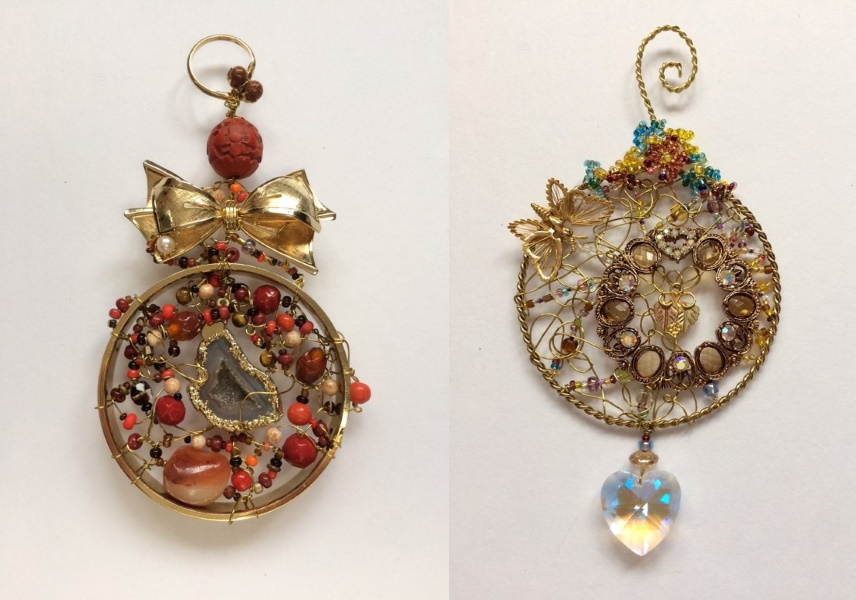 I researched little red and blue faces and learned about Zuni First Nation art from New Mexico and Sun God Jewelry. Turquoise for oneness between physical and spiritual realms, coral for protection and mother of pearl for intuition and imagination.
— #5 Zuni Collection (2" dia. 4" high)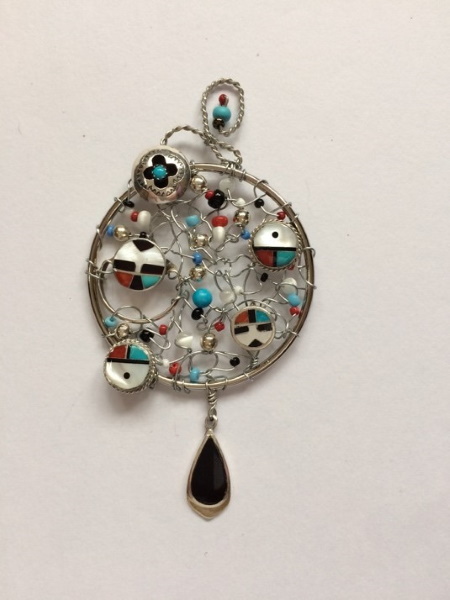 "Egypt" and "Mexico" were stamped onto bracelets of colourful scarab beetles and mother of pearl. Was this evidence of travel?
— #6 Mother of Pearl (2 ¾" dia. 4 ¾" high), #7 Scarab Jewels (3 ¾" dia. 8" high)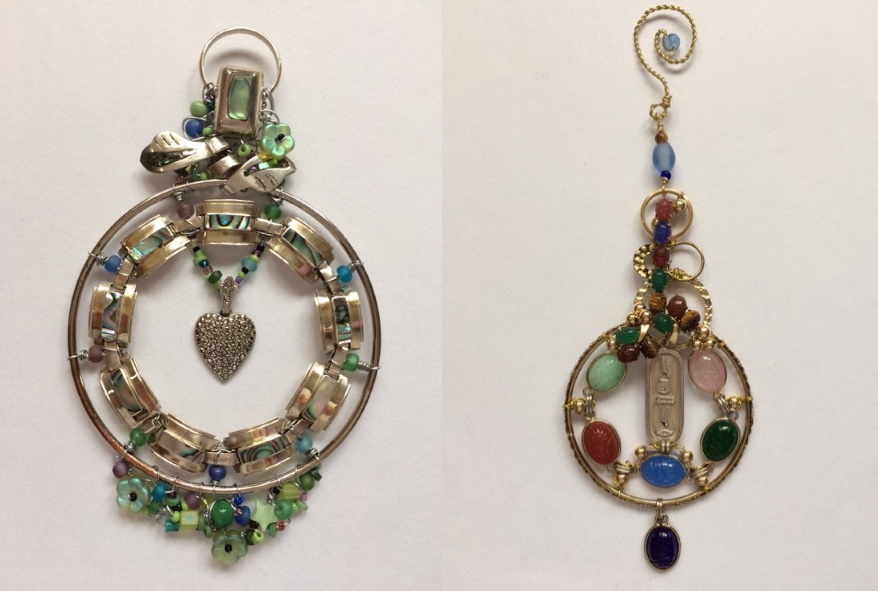 Esther grew up in Mexico and quite a lot her collection bore the "Mexico" stamp, but here was also a broach from Denmark!
— #8 Mexi-Cat (3" dia., 5 ½" high)
I learned the meaning of Esther's little Chai pin. Jewish tradition says giving in increments of 18 or "chai" is giving "the gift of life". Now I had a goal, 18 pieces!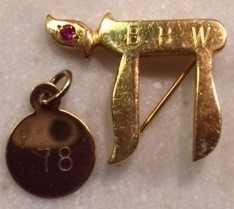 I continued, using beads from a coral necklace, a butterfly and a pendent form Guadalupe.
— #9 Coral Peach (2 ½"dia. 5 ½" high)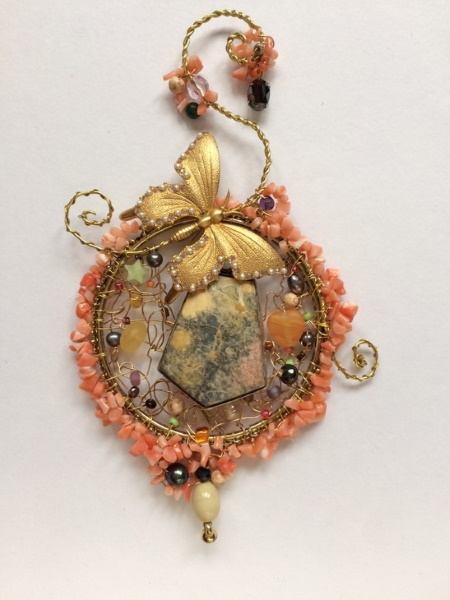 A silver sail boat and whistle that really works! Did Esther want to sail away?
— #10 Take Me Away (2 ½" dia. 5 ¾" high)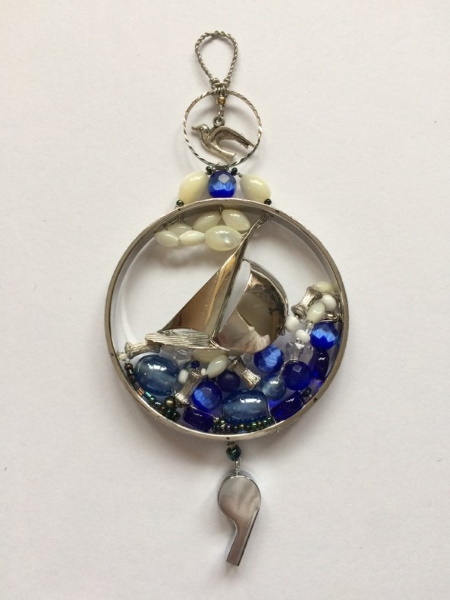 Esther was small in stature. Her bracelet, just over 2 ½ inches in diameter made the perfect frame for a broach with Jade leaves and a butterfly.
— #11 Golden Jade (2 ¾" dia. 4 ½" high)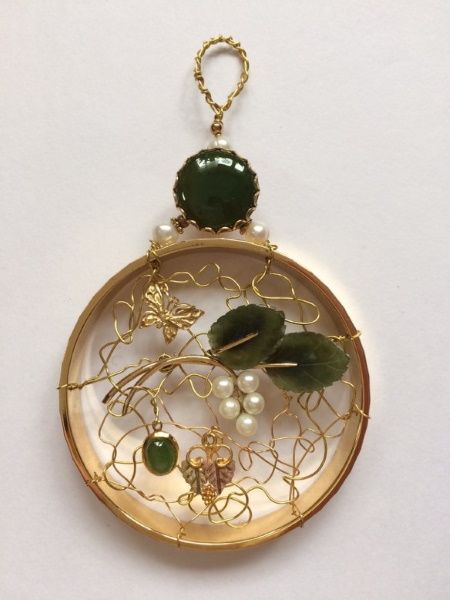 A gilded oak leaf, roses and a catkin showed Esther's love for nature.
— #12 Autumn Gold (3" dia. 5" high)
Esther loved butterflies and flowers, adding a heart created a Tiny Garden.
— #13 A Tiny Garden (2" dia. 4" high)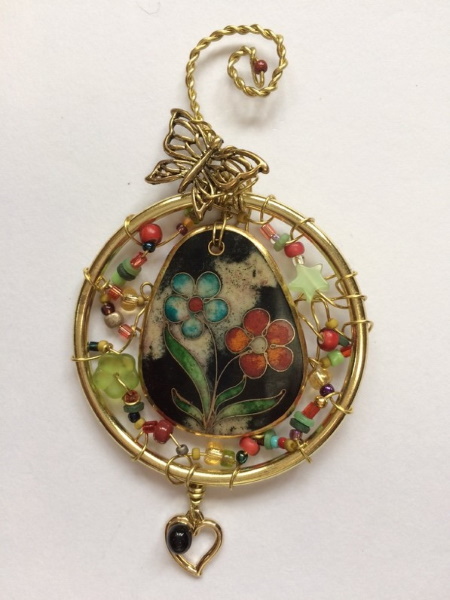 Square beads, square earrings and a square hole for a sparkling crystal contrast with the softer shapes of the butterfly and "E" for Esther.
— #14 Square Hole (3 ¼" dia. 6" high)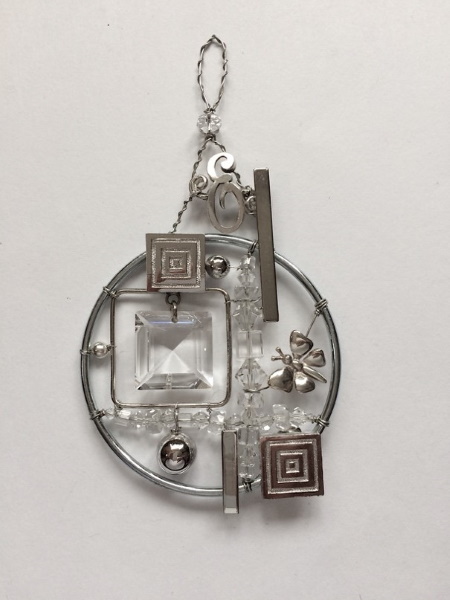 Strength, courage, independence, a love of travels, devotion to her work, volunteering and her wonderful community. That is how Esther was described.
— #15 Statement (3" dia. 5 ¼" high)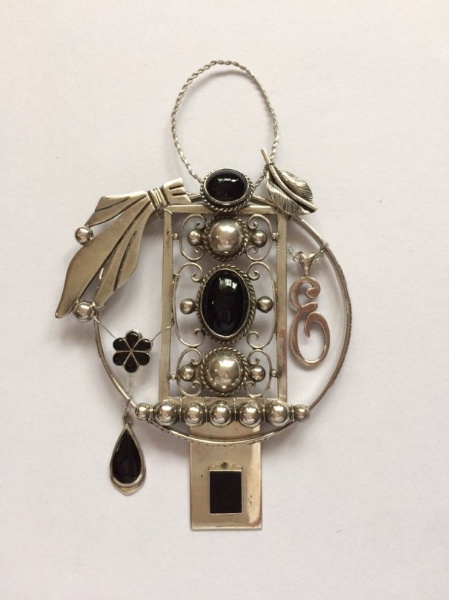 Did Esther the adventurer intentionally find earrings that resemble the Star Trek symbol?
— #16 Red Rose (2" dia. 3" high)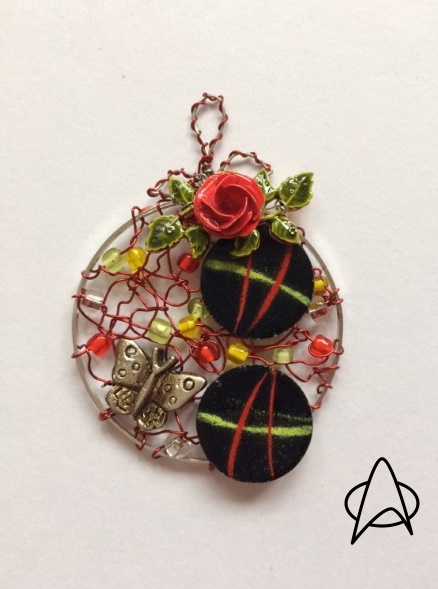 The turquoise eyes drew these pieces together, Esther's earrings and her sister Ursula's Cat.
— #17 Esther's Earrings and Ursula's Cat (2 ¼" dia. 4 ¾" high)
The Floribunda with its dense cluster flowers was the last of the butterflies. Together with the last little bracelet and a few of Esther's beads it was also the last piece of the collection. 18 pieces, 18 gifts of Chai, Thank You, Esther. Blessings to you for your next adventure.
— #18 Floribunda Butterfly (2 ½" dia. 4 ½" high)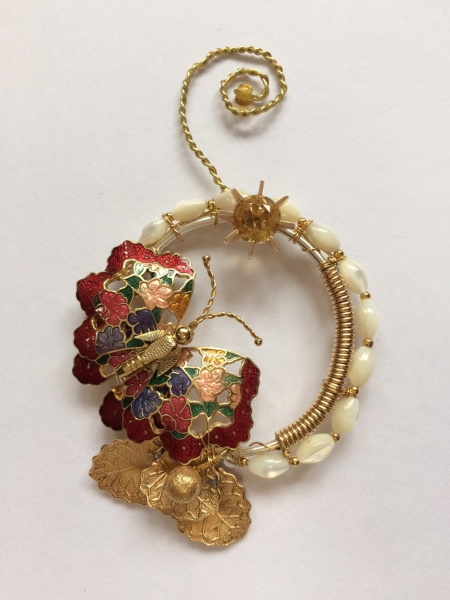 The Esther Collection – 2020