Kassie's Commemoration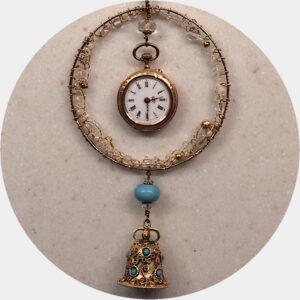 Kassie decided that making commemorative artwork with her parents' jewelry made more sense than keeping it tucked away in a box. These 5 pieces bring memories to life.
We started with combining Mom's favourite silver and green brooches with crystals so they would sparkle in the sun.

A golden amethyst pendant with a secret compartment became the centre piece for the next sun catcher.

An elegant hand with pink brilliants around the cuff holds a looking glass mom used to wear as a pendant.

We combined Mom's favourite pocket watch, a golden bell (with a delightful tinkling sound) and a bright star to cast rainbows when the sun shines. A special gift for her daughter.

Finally Mom and Dad together.
Mom's marcasite butterfly watches over Dad's favourite watch. A pair of cameo earrings and beads from a charm bracelet complete the piece. A special gift for her son.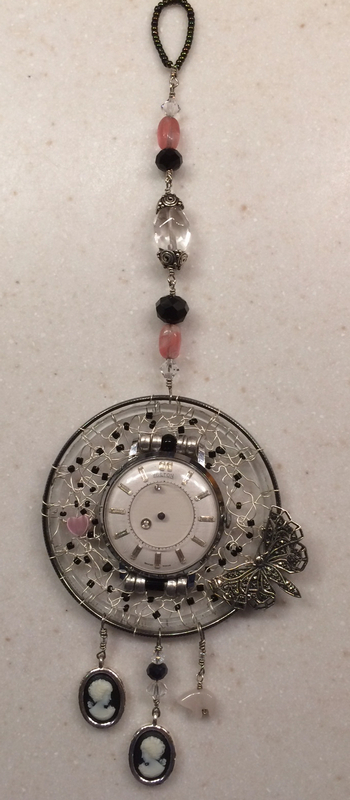 Wait! There's one more…
The last silver and turquoise broach wanted to have fun. Emphasizing the dots, we chose lots of crazy purple and yellow elements to go with it and called it Mardi Gras.