Barbara Bryce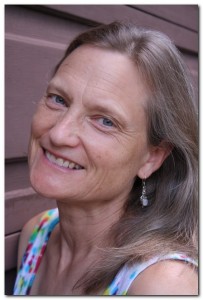 Bio of a "Window Jeweler"
Barbara Bryce loves creating assemblages from glass beads, wire and found objects. She is often inspired by the treasures she finds and especially loves the satisfying surprise that comes when the finished piece is finally hung in the window with sun sparkling through it. Thus, she calls her work "Window Jewellery".
Barb has picked up tips from many artists along the way, and still draws on design principles she learned studying Landscape Architecture at the University of Guelph. She is particularly inspired collaborating on commissions with her clients to produce unique and personally meaningful pieces of work that include their treasured keepsakes.
In addition to her artwork Barb also enjoys two very different but rewarding creative activities – over 10 years of designing and painting sets for a huge variety of theatre projects, and over 15 years of teaching tai chi with Linda Kearns' Guelph Tai Chi for Health.
Artist's Statement
I have always been driven to create artwork. I find that at the same time it can be challenging and meditative. I am fascinated by the things that show up in thrift stores and the little treasures people give me to work with. I love re-purposing them into new pieces of artwork exploring and adding to the beauty put into them by other artists. The prize is finally seeing a new piece hanging in a window sparkling in the sun and giving people joy.