Artist's Statement
Always driven to create, my medium has ranged from designing urban landscapes to theatrical sets and for the last 10 years stained glass artwork.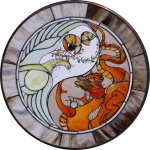 I am fascinated by discarded curiosities found in thrift stores or along Guelph's riverbanks. Sometimes materials find me, dropped off by folks who want their favorite chipped crystal appreciated and recycled into art. When assembling my collages on a light table it feels as if the pieces design themselves, calling out for colours and shapes wanting to be included, thus I call it "improvised art glass". I love the changes that occur in my work as sun moves through the day. Backlit silhouettes in the morning transform when lit by the lights in the room.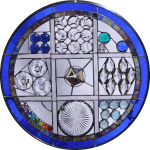 My work is not traditional stained glass. While I still use a copper foil technique, my work differs in that pieces overlap and leave open spaces. Bits of metal and odd jewelry are hidden among the gaps, fastened in with lead-free solder. I love hearing people's accounts of how they still discover little details years after purchasing my artwork. My intention is to explore the beauty created long ago by other artists that still remains in these discarded once-loved objects.