Biography – Barbara Bryce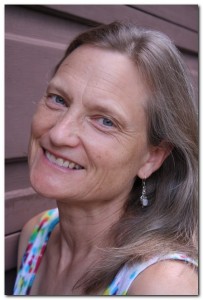 Barbara Jean Bryce is not your typical stained glass artist.
Her collages feature layers of broken antique bottles and glass combined with metal trinkets and odd earrings all spun out in a circle. Self-taught – her work often resembles a round page from a "Where's Wally/Waldo" children's book.
Though she has picked up many tips from other glass artists she continues to draw on design principles she studied doing a degree in Landscape Architecture at the University of Guelph. She is particularly inspired by working with clients on commissions to produce meaningful pieces of work including their treasured keepsakes.
Besides glass artwork Barb has designed and painted many sets for shows at the Guelph Little Theatre and for Sue Smith's Season Singers Theatrical Children's Choir Productions. Barb is also an assistant Tai Chi teacher with Linda Kearns' Guelph Tai Chi for Health.

Curriculum and History
• Since 2010 she has organized the "Glass in the Music Centre" an annual group show for glass artists that brightens the windows of the upstairs foyer of the Guelph Youth Music Center.
• This year (2015) will be the first year Barb shows her work as part of the annual Guelph Studio Tour.
• As a Member of Whitestone Gallery she had a solo show in 2014, and took part in their 2015 group show at Gallery M in Cambridge.
• At the Talent Next Door Cambridge/Guelph 2012 show in Kitchener, she won an Artist's choice award.
• Barb's work can be found at Art Gallery of Guelph and Artisanale Restaurant in Guelph, Ontario.
• Barb has a Bachelor of Landscape Architecture from University of Guelph 1983.